I will personally meet with you, listen to your concerns, evaluate the health and structure of your trees, and together we will make a plan for tree preservation or removal.
Tree removal is performed for one of two reasons, either the tree is somehow "in the way", or it is in danger of falling.  In the latter case a hazardous tree evaluation should be performed by a qualified expert.  Daniel Murphy has both the scientific training and nearly 3 decades of empirical study in witnessing the structural failure of trees, to make an accurate assessment of a potentially hazardous tree.  Many trees that may seem hazardous to the lay person are not, and conversely many dangerous trees cannot be perceived by the lay person because these trees have hidden structural defects within the trunk, root system, or upper canopy, which are only apparent to a well trained and experienced professional.
Trees are tremendous assets, providing many great benefits to your home and property.  Conversely, they can become extreme liabilities when they threaten your safety and property.  Once the decision to remove a tree has been made, we proceed with great care, skill, precision, and state of the art equipment to ensure that no damage is done to your lawn, landscape, or other property.  Daniel understands the value of your property and specializes in 'low-impact' removal of any sized tree.  We don't hurt the lawn, flowers, the house, patio, the driveway, the fence or anything else.
Tree removal can range from a simple "notch and drop" tree falling, to technical rigging with the use of lowering lines and blocks to safely lower limbs to the ground, or the use of cranes for dangerous situations such as storm damaged and structurally compromised trees. Over the past 28 years, we've performed the most technically demanding removals imaginable, including three months of storm damage work in North Carolina after Hurricane Hugo.
Daniel is one of the most knowledgeable, skilled and experienced tree fallers on the east coast, and will often lay a tree down in one cut that others would take a day or more to rope down, one branch at a time, or need to use a costly crane to remove. The combination of Daniel's unique falling skills and the skid steer loader with "turf tracks" that can transport wood and brush out of the yard without damaging the lawn, gives us a great competitive advantage over other less skilled and under-equipped companies. This allows us to provide you great service at a competitive price.
Daniel published his first article on tree falling in July 2004 in Tree Care Industry Magazine, which is the largest trade journal for professional arborists in the world. Daniel was put on the cover (see cover shot and article) and was invited later that year to give a presentation at the International Society of Arboriculture's annual international symposium. The I.S.A. is the largest trade organization in the world. This article was very well received and generated an industry wide debate amongst professional trainers, college professors, and researchers.
In 2009, Daniel began videotaping many of the more technical and difficult removals he performs.  These documentaries, which range from 3 to 10 minutes in length, are archived on YouTube and can be seen through links on our video page.  The comments left by other professional arborists about these videos are a testament to the skill and expertise Daniel possesses.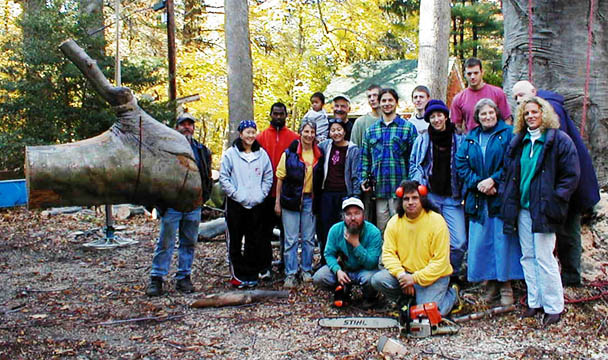 We offer Turf Friendly tree care.  We take as much care of your lawn as you do.  Removing large trees can require moving a lot of mass across your lawn. We know you really care about your lawn, and we will take extreme measures to protect it.
All branches and wood will be carefully lowered on ropes to prevent dents, divots, and pock marks in your lawn
No trucks on your lawn.  If we find it necessary to use trucks or other heavy equipment on your lawn, we will use specially designed alturna-mats to build a bridge. (pic)
We will use a crane to lift large trees out of sensitive areas.
We will set up padding logs when falling a tree on lawn areas, so the tree doesn't dent or damage the lawn upon impact with the ground.
Our secret weapon – removing any large tree from a yard can require a lot of heavy traffic on your lawn.  Large tree logs are heavy, and have to be removed somehow, which if not done by crane lifting, will put a lot of wear and tear on your lawn.  Our skid steer loader is the only one of its kind in the area with Turf Tracks.  This equipment was designed for use on golf courses to avoid damage to the valuable fairways and greens.  The tracks have extremely low ground pressure, about the same as a human footprint, and do little or no damage when making turns, even when carrying 1,500 lbs. loads. (http://www.youtube.com/watch?v=DULRjWtjj2g).   No damage to the lawn during turning or lifting of heavy materials.  This allows us to make quick and easy work of removing material from back yards and other areas with limited access. Therefore, we are often able to do jobs in a fraction of the time of our competition because of this unique piece of equipment.  This translates into savings for you, and more importantly a lawn that looks great when the job is completed.